12 of the best tattoos in MMA
source: MMA.tv
In a now famous exchange, MMA's best reporter Ariel Helwani debated 80-year-old boxing promoter Bob Arum about the merits of the world's fastest growing sport, and the subject of tattoos came into the discussion.
Bob Arum: I look at the UFC audience and the boxing audience as being two different audiences entirely. Our audience in boxing is ethnic, Hispanic, Filipino, Puerto Rico, Mexican and the hardcore boxing fan who can watch like me, can't watch UFC.
Ariel Helwani: I take offense just for that for someone who covers the sport, I'm not a skinhead, I'm – I'm actually a Jew, I'm not white,a white guy, nothing like that.
Bob Arum: Ya, well you don't have any tatoos

Ariel Helwani: No tatoos and a lot of people I know in MMA don't have tattoos.
However, a lot of people in MMA do have tattoos, and here is a gallery of a dozen of the best ones, in no particular order. Best tattoos is actually a tougher list than worst (when you read worst, you thought of one), so feel free to add your best below.
Bas Rutten: "The one on my right hand means "Ki" that means energy, life energy. Force. The one on my other hand means "Shao" that means a long life. I put the first one on my hand, after this tattoo I never lost a fight anymore in my life. So I think, "Wait a minute This tattoo works", so I was always really afraid to die, I think maybe a plane is going to crash or something, so lets give myself a long life, so I put this tattoo on, which means a long life."

GSP: "The tattoo on my chest means that there are two sides to me. I can be very rude and I can be very nice. I like to be rude when I fight."



Jake Shields wears his heart on his sleeve:

Joe Rogan: The tattoo depicts Hogan's Spirit Molecule trip where he hallucinated and saw an Alien Thai Buddha made out of energy telling him not to give into astonishment. If you look at the molecule in the center of the tattoo it's the DMT (Dimethyltryptamine) molecule pictured on Wiki.

Babalu: The ink and the fighter are both truly tribal:

Gilbert Yvel tattoos could make someone's worst of list too, but he wears the names of everyone he has knocked out, which is memorable. Not sure if the list includes the ref or not.

Chris Leben: Yes, that is a head in the samurai's hand
Genki Sudo: "The bird on my back is my design, inspired by the ground pattern on the Nezka, Peru. The left arm's symbol is the symbol of life for one of the Native American tribes. The letters under that one are Hindu letters meaning "Everything is gonna be alright". The right arm tattoo is a graphic of four Chinese characters meaning "Genki Nyorai" - my own creation of a Budda."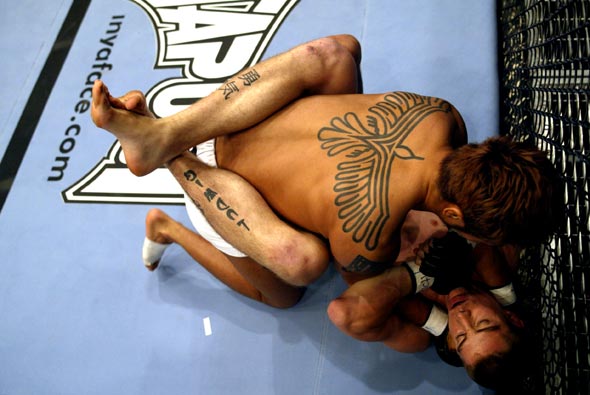 Alessio Sakara: "SPQR I have on my body!" Sakara says, referencing the 'Senatus Populusque Romanus' tattoo on his forearm that marks him as solider for the Roman Empire. "I like Roman history very much, and Greek history. I read a lot of books. (My favorite period) varies a lot. I like Julius Caesar and Marcus Aurelius. Everything in Rome, every period is good for me. I like the Spartan culture too, very much … It is because my name Sakara is an old name in the Roman Empire, in the south. For this I put the nickname Legionarus, which means a soldier in the Roman Empire. I am a soldier for Rome now — I fight around the world, I fight for Rome and for Italy."




Aleksander Emelianenko: If the purpose of his ink is to be intimidating, it works really, really well.
Ivan Salaverry: Yes, that is something like human cockfighting. Still one of the coolest tattoos in the sport:

Wanderlei Silva: It's Wanderlei Silva

Sun, 01/01/2012 - 09:38
#1
Leben and Sakara have some bad-ass ink for sure.
Mon, 01/02/2012 - 12:56
#2